Exceptional sailing in Vassiliki's amazing waters!
The reason why so many of our guests return year after year, is because of the truly exceptional sailing conditions in Vassiliki's bay, our friendly and professional staff and the huge range of equipment ready for you on the beach.
Sailing conditions
Vassiliki is blessed with unique climatic conditions: flat water and winds that are ideally suited to beginners in the morning and experts in the afternoons. The blessed conditions are thanks to the mountains surrounding our bay, which cause the air to heat up in the morning which almost invariably leads to steady winds in the afternoon.

A.M. On most mornings, the wind is a gentle onshore breeze, ideal for beginners to get their first taste of the joys of sailing and windsurfing. The more advanced sailors use this time to brush up their techniques on the more demanding boats and to do some windsurfing freestyle.

P.M. Most afternoons the wind switches cross-shore and builds ready for an exciting afternoon in the safe waters of this expansive bay. The more experienced can do some heavy wind training or just go blasting, while the novices can team up with one of the instructors for the ride of their lives!
Sailing equipment
Waiting for you on the beach is an impressive line-up of boats: high performance dinghies and catamarans for experienced sailors and a great selection of less demanding craft for beginners and youngsters. See the overview of our fleet below.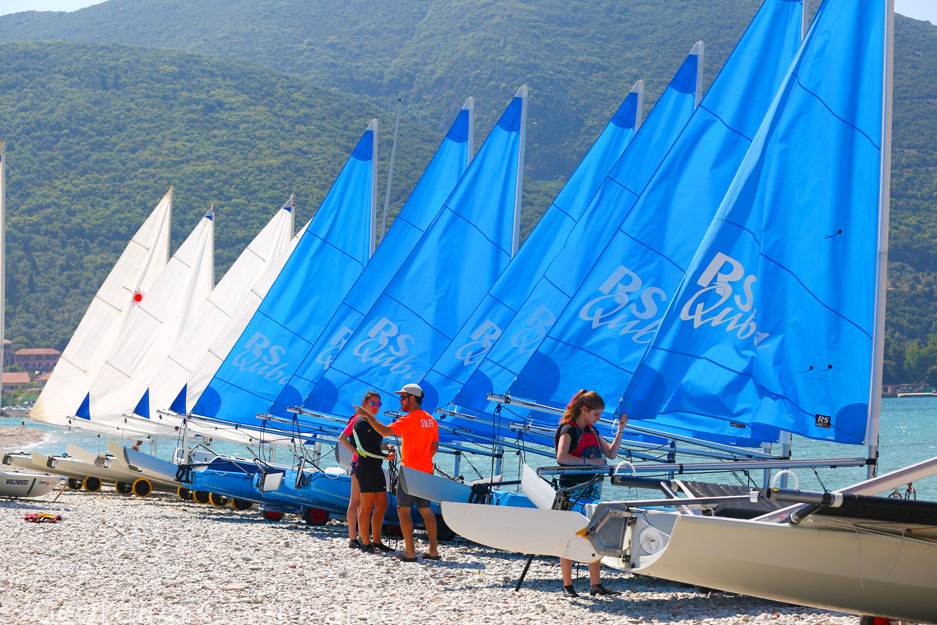 Our team of instructors is highly professional, experienced and approachable; many have competed at national and international level. We are an RYA recognised teaching school (click here to see our RYA certificate) and one of the few to offer courses that cover the full range of the RYA syllabus. All courses are offered completely free of charge, though there is a nominal fee for any training materials you may require. Moreover, our RYA qualification and highly qualified instructors ensure that your safety is never compromised.
Whether you are a total novice or you have been sailing since you were a kid, there is no better place to enhance your skills while having fun on the water!
Wildwind's amazing sailing fleet
This is an overview of most of the equipment that's waiting for you in Vassiliki.
Catamarans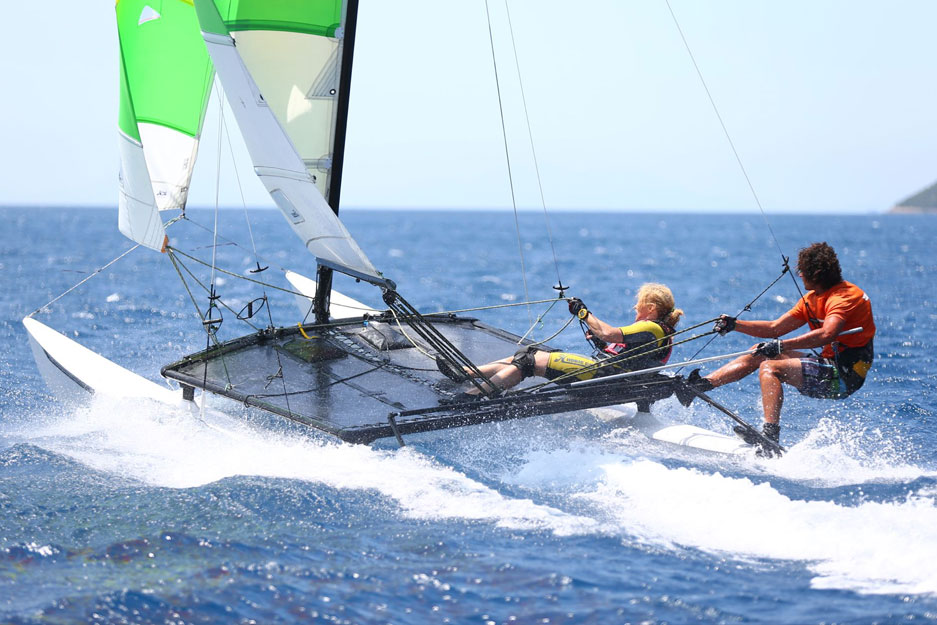 1 x Goodall C2 - F18 high performance cat
1 x Tornado - Former Olympic 20ft catamaran
6 x Hobie Tiger - Advanced ISAF internationally recognised F18 catamaran
3 x Hobie Pacific - 18ft beach cat, ideal for cruising or stepping stone to the Tiger
3 x Hobie FX One - High performance 17 foot single-hander racing catamaran
7 x Hobie 16 LE Race - Classic beach cat that you can take out in just about any wind
2 x Hobie 15 Turbo - Great learning boat with lots of volume, making it very forgiving
1 x Hobie 14 LE Turbo - The original Hobie: don't be fooled by its simple looks!
1 x Hobie Dragoon - 13ft friendly single-hander/kids boat that is a great introduction to cat sailing
Dinghies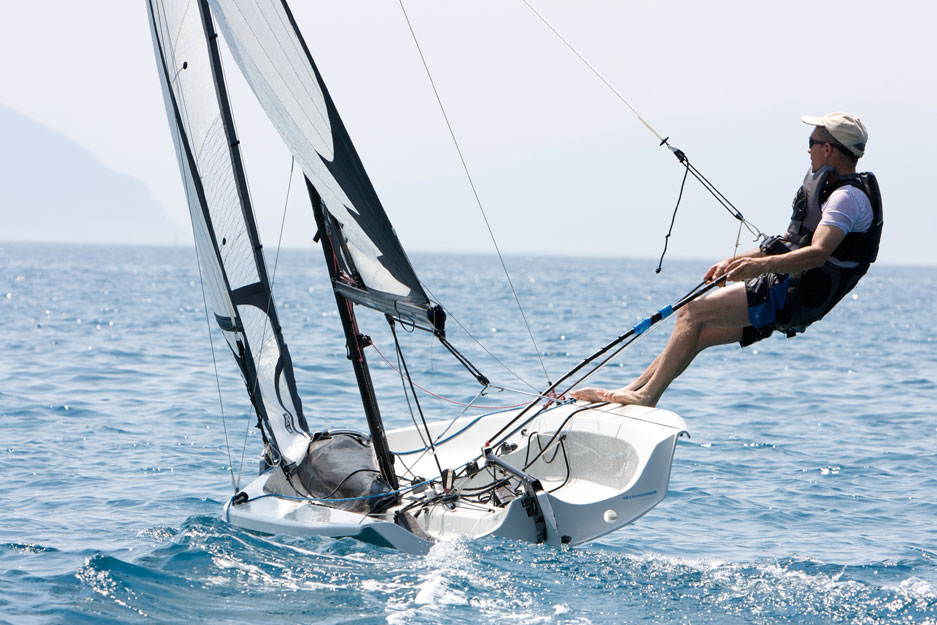 1 x 29er - The youth version of the 49er
1 x 49er - Very advanced Olympic class racing skiff, experience needed even as a crew!
1 x RS 100 - Stunning single-hander with gennaker
2 x RS 200 - One of the most successful double-handed race classes of the modern era
2 x RS 500 - Advanced single trapeze dinghy
1 x RS 800 - Twin trapeze high performance skiff
2 x RS Aero - Fast singlehander - also with foiling kit
3 x Laser 2000 - Stable and fun teaching dinghy, a great introduction to spinnaker handling
14 x ILCA XX Laser 1 - BRAND NEW- The classic Olympic single-hander dinghy, available with standard, radial or 4.7 rig
2 x Laser Foilers – Allows you to fly rather than sail!
1 x RS Feva - The world's bestselling two-person sailboat in recent years
4 x RS Quba – A versatile 1 or 2-man dinghy, suitable for kids or the whole family
7 x RS Zest - NEW in RS 's range updating the RS Quba
2 x RS Tera - The next step up from the Optimist
2 x Optimists NEW in our fleet - the no 1 racing boat for kids.