Lefkas: an incredible beauty that begs to be explored
Lefkas - or Lefkada, as the Greeks say - is a remarkably green island on the west coast of Greece.It is the fourth largest of the Ionian Islands, after Zakynthos, Kefalonia and Corfu. About 22,000 people call it home.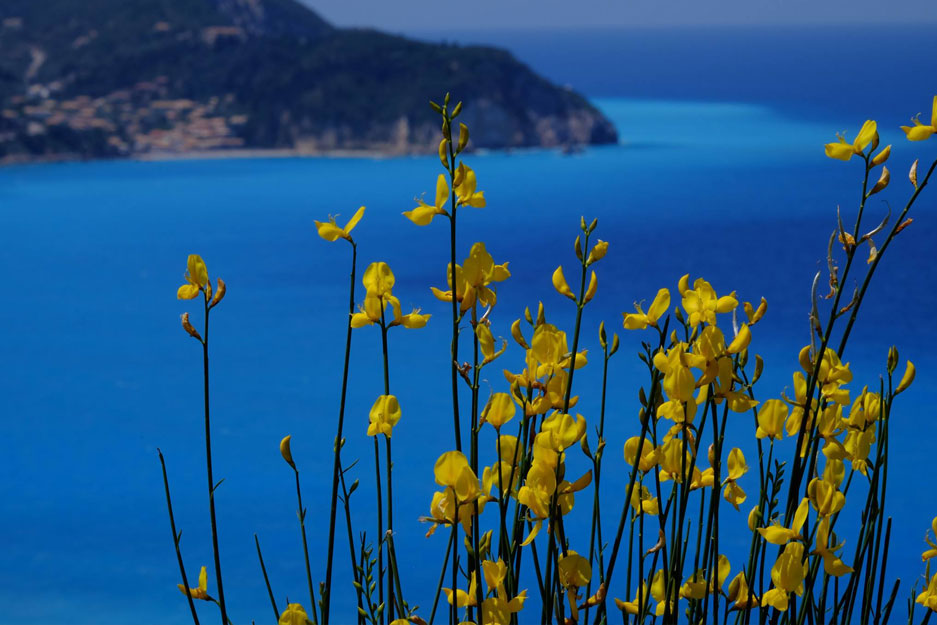 Unlike many other islands with an agreeable Mediterranean climate, Lefkas is not spoilt by mass tourism but remains a calm and authentic place where people actually live and raise their children.
Lefkas is fertile and rich in hills and mountains that are covered with dense and verdant vegetation. The two highest peaks rise over 1000 metres.
The popularity of Lefkas is due to its gorgeous landscape, its seemingly endless beaches with white pebbles and shingles and its paradise-like turquoise waters and majestic vertical rocky cliffs.
Nine satellite islands surround Lefkas: Meganisi, Kalamos, Kastos, Madouri, Skorpidi, Skorpios, Thilia, Petalou and Kythros.
Explore the island
Lefkas is rich in history and culture, with its fame stretching back to ancient times. It is believed that Lefkas was the island that Homer called Ithaca and on which he located the palace of Odysseus in his legendary work Odyssey.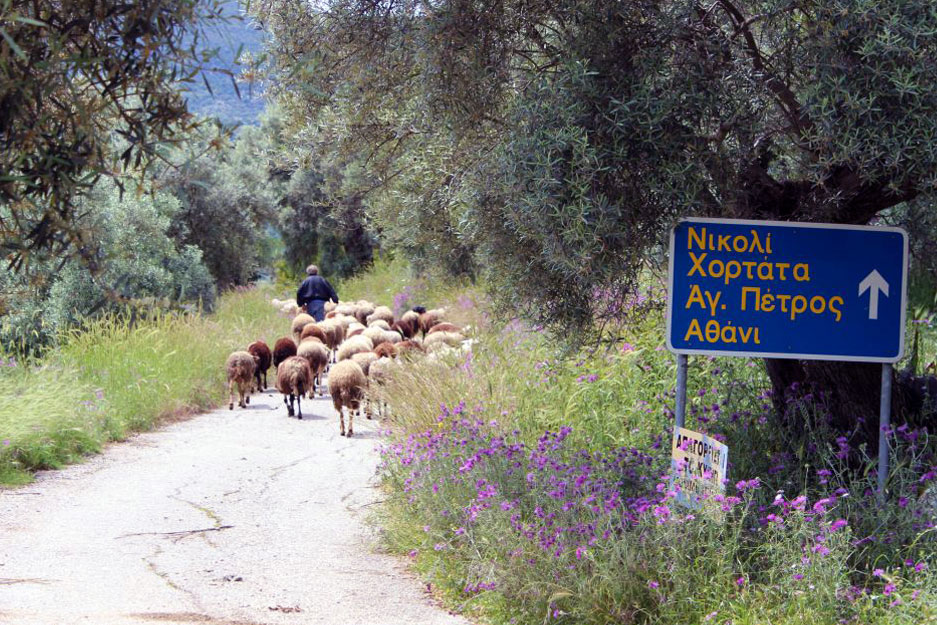 The landscape on the eastern coast of the island is covered in lush virgin woodland of fragrant firs and pine trees. Smaller islands are visible just offshore. On the other side, the west coast hides a more rugged terrain; the picturesque villages perched on the hillsides enjoy views of some of the most breath-taking and award-winning beaches below, many of which are almost deserted even in the height of summer. The name Lefkas comes from the Greek word for white, referring to the white cliffs at the southernmost tip of the island. According to ancient mythology, it was here where Sappho jumped into the sea after her love was unrequited.
After the earthquakes of 1948 and 1953, a large part of Lefkas was destroyed. Since then, the capital of Lefkas, Lefkas Town, has been rebuilt completely in a unique architectural style, with wooden houses covered with metal sheet in many colours. Lefkas Town is situated in the northern region of the island where the causeway and bridge link the island to the mainland of Greece. A common route is the scenic coastal road that snakes around the island to Vassiliki, a lovely and traditional fishing village nestled in southern Lefkas.
Vassiliki Bay provides perfect conditions and exceptional views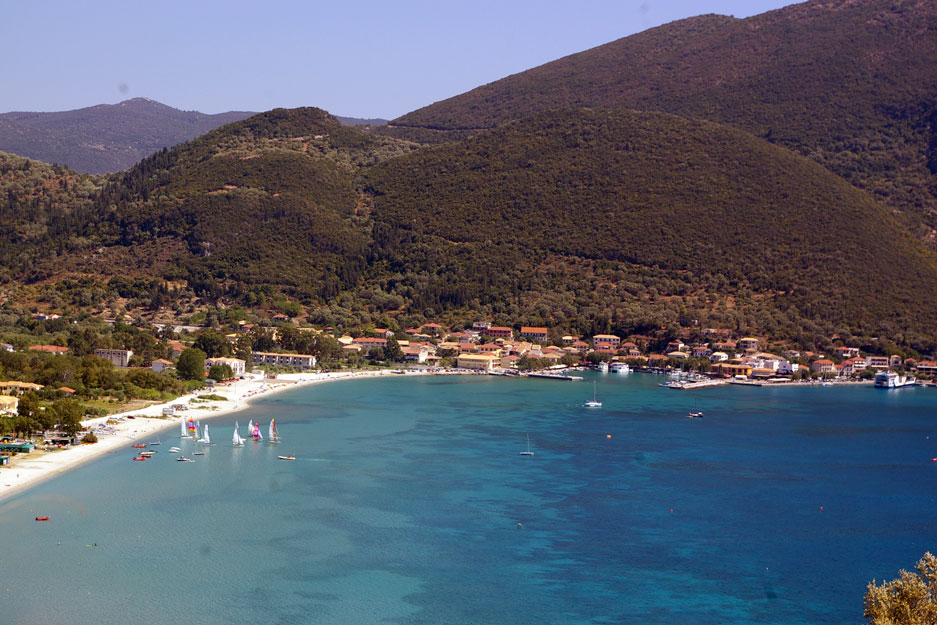 Here you'll find our base. The bay of Vassiliki is a gorgeous sight, framed by mountains and backed by a verdant valley with abundant olive and orange groves. There are spectacular views of the sapphire sea and the nearby islands of Cephalonia and Ithaca. Early morning, the waters are serene and quiet, ideal for doing some kayaking or paddle-boarding. In the afternoon, the bay comes alive with the multi-coloured sails of catamarans and dinghy's and with many windsurfers – this is why we're considered by many to be the best sailing holiday in the world!
Our beachfront accommodations are located just yards from the sea's edge, in two charming family-run hotels and an assortment of apartments and studios all set in landscaped gardens. Our simply-styled and comfortable air-conditioned rooms are all en suite, with balcony or terrace offering magnificent views of sea, countryside, or mountains.
Our family run hotels right on the beach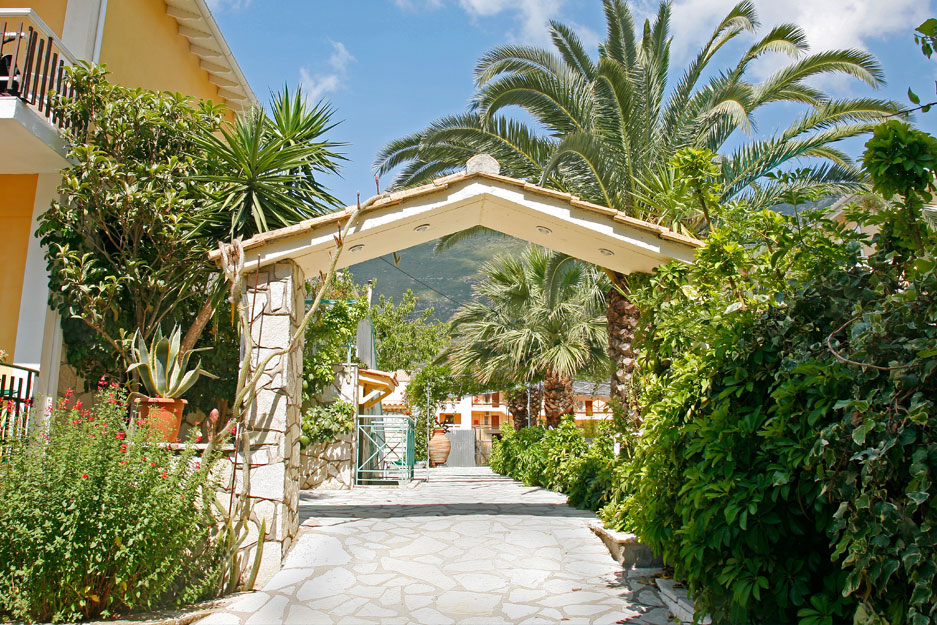 Our beachfront accommodations are located just yards from the sea's edge, in two charming family-run hotels and an assortment of apartments and studios set in beautiful landscaped gardens.
Our beach and pool bar restaurants provide a relaxing atmosphere and offer a range of appetizing, homemade fare - everything from breakfast to an early evening meal. There are plenty of vegetarian options, too. Nevertheless, we encourage all our visitors to enjoy the Greek flavours and variety of the local tavernas, bars, and cafes in the Vassiliki harbour as well. For that reason, we don't price our holidays to include any meals. You're welcome to stay on site for breakfast, lunch or dinner, or take a short walk to the village to treat your palate to the excellent local cuisine. Our staff will happily recommend you their favourite haunts - and there are many!